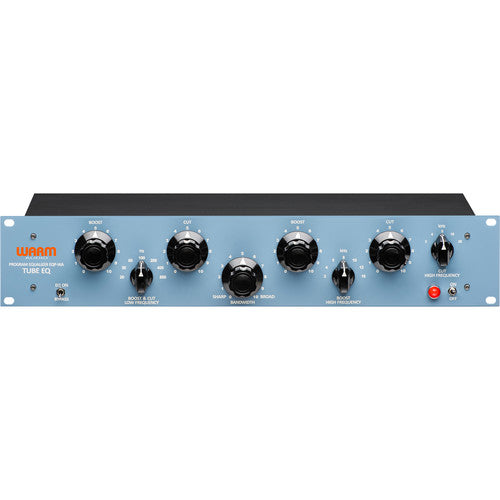 Warm Audio
Warm Audio EQP-WA Tube Equalizer
---
Warm Audio EQP-WA Tube Equalizer
The EQP-WA is a re-creation of the most renown tube Equalizer in studio history, the "Pultec EQP-1A". Not only does the look and feel of the EQP-WA match the classic Pultec units, but the sonic quality has been carefully considered by using top-end components such as CineMag transformers and premium tubes. This fully discrete Tube EQ can pull euphoric sonics from any track and bring a brilliance and luster to mixes that's nearly impossible to achieve inside-the-box. We are proud to have once again redefined the industry standard by bringing a fully professional-grade equalizer to the market at a price that's just as remarkable as the unit.
Specifications:
Utilizes premium grade input and output CineMag USA Transformers.
Tube Equalizer based on the classic "Pultec" EQP-1A.
Premium high voltage 12AX7 and 12AU7 tubes.
CineMag inductor EQ section.
EQ section is bypassable - signal still passes through tubes and transformers for warming effect.
No insertion loss - loss restored by tube amplifier.
XLR and TRS transformer balanced inputs.
XLR and TRS transformer balanced outputs.
Flat frequency response from 20 Hz - 50 kHz.
Boost and Cut controls can be used simultaneously for phase effect.
Low frequency boost - 20, 30, 60, 100, 200, 400, 800 Hz - 12 db.
Low frequency cut - 20, 30, 60, 100, 200, 400, 800 Hz - 18 db.
High frequency boost - 3, 4, 5, 8, 10, 12, 16 kHz - 18 db.
High frequency cut - 3, 4, 5, 10, 20 kHz - 14 db.
5 added frequency points for greater flexibility.
Switchable 115/230 volt IEC power inlet.
Dimensions: 19 x 3.5 x 6 inches - 2RU rack mountable.
---
Share this Product
---
More from this collection